Padre Island Burger Company Outline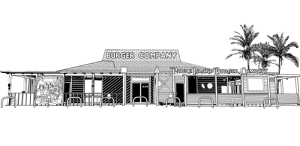 Welcome to Padre Island Burger Company! We're thrilled to have you here and we can't wait to share our delicious food with you.
At Padre Island Burger Company, we're all about fresh, locally-sourced ingredients and bold, unforgettable flavors. Our menu features a wide variety of mouth-watering burgers, sides, and drinks, all crafted with care by our expert chefs.
Whether you're in the mood for a classic burger topped with all your favorite fixings, or you want to try something new and exciting like our LuLu Burger with Corn Cob Smoked Bacon, Jalapeno Jelly, Cream Cheese and Fresh Jalapeno slices, we've got something for every taste bud.
So why wait? Come visit us today and experience the best burgers on the island. Our friendly staff is always here to greet you with a smile and make sure you have a fantastic dining experience. Thank you for choosing Padre Island Burger Company, and we hope to see you soon!