LuLu Burger Slider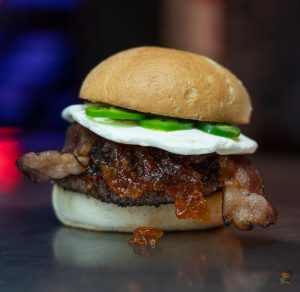 Looking for a burger that packs a flavorful punch? Look no further than our LuLu Burger! Made with a juicy 1/2lb Texas raised beef patty and served on a fresh, locally homemade sourdough bun, this burger is topped with some truly delicious ingredients.
First up, we've got our signature Corn Cob Smoked Bacon, adding a smoky and savory flavor to every bite. But we didn't stop there – we also add a dollop of creamy cream cheese that perfectly balances out the heat from the next ingredient: Jalapeno Jelly. This jelly provides a sweet and spicy kick that pairs perfectly with the fresh jalapeno slices that we pile on top.
All in all, the LuLu Burger is a burger experience unlike any other – one that's sure to leave your taste buds satisfied and craving more. So why wait? Come on in and try one for yourself today!